Jisook, a Rainbow member, is getting married Lee Doo-hee who is a computer programer.
On June 29, they reported their marrigae through MBC's 'You've Lost If You're Jealous'. After the show, Rainbow members and fans congratulated and cheered Jisook and her husband. Jisook also posted a handwritten letter on social media to express her feelings about marrying Lee Doo Hee.

Jisook said, "To be honest, I have already told my members in advance that I was getting married, but as soon as I heard the news, everyone started to sniffle their nose and turned red" and added, "I've never felt this way before". One member said "I can't believe Jisook is all grown up and is getting married" as they hugged each other and shared a touching moment. Jisook revealed that she cried again after watching the show and the members are still talking about it together in thier chat messenger. Jisook stated that "receiving support from family is truly something extraordinary." At the same time, she expressed her affection for the show "Real Love Story".

Jisook said, "It's a blessing that these pleasant memories can be captured through video. The relationship between us became stronger as we filmed the series. It was a precious time to get to know each other more and I would like to thank all the staffs for treating us sincerely and making the video with so much love."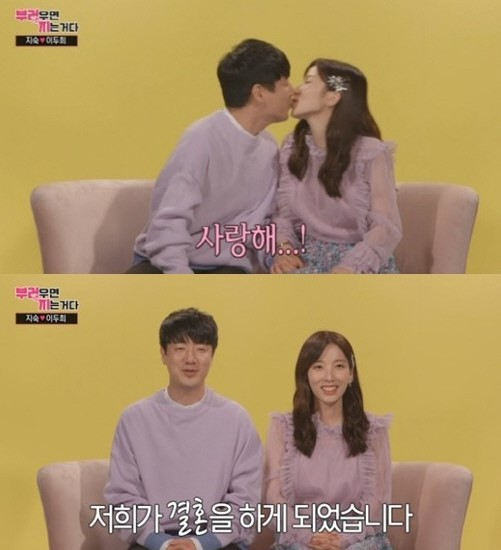 Jisook and Lee Doo Hee are planning to get married in October. Nothing is officially decided yet. They are in process of getting ready for the wedding and Jisook wants to prepare it well and make wonderful memories during the process.
Congratulations on your wedding guys! You two are such a cute couple 🙂